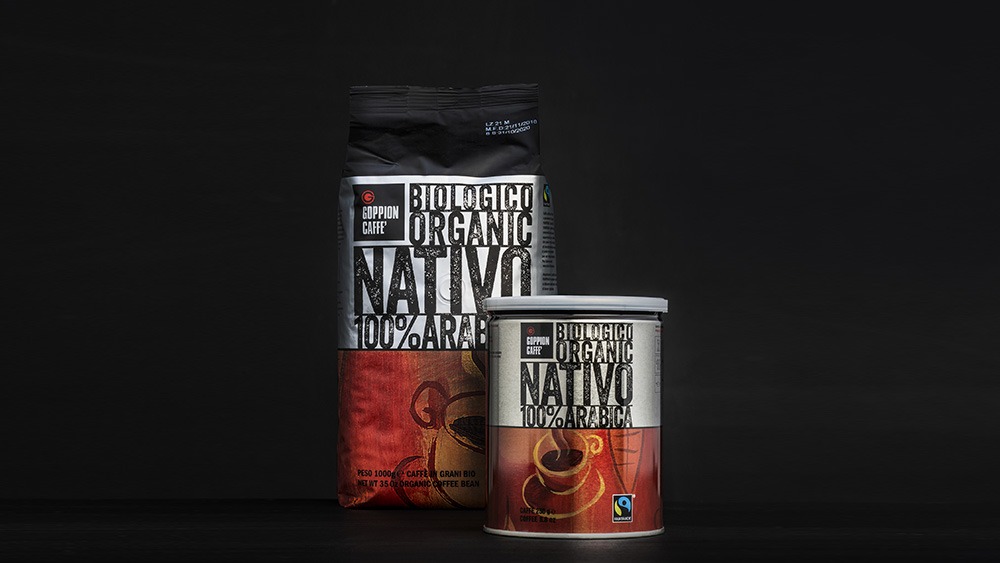 NATIVO: GOOD AND FAIR,
FROM ORGANIC FARMING
The NATIVO coffee has a long history to tell.
Nativo coffee: GOOD AND FAIR, FROM ORGANIC FARMING
Since 1995 Goppion is Fairtrade (formerly Transfair) certified. Goppion developed its expertise in processing fair trade products from organic farming back in 1986, when C.T.M. (Third World Cooperation), today known as Altro Mercato, asked the company to process coffee on their behalf. This would pave the way to their growth in Italy, an important fact Goppion is honoured to underline as it addressed key social issues and became the beginning of a new experience for our company that led us to producing Nativo.
We created the Nativo packaging bearing in mind the origin of the coffee that initially came from Mexico.
We wanted a different packaging, that was not only about our experience, but also about new, unexplored topics.
The color of the lands and the 20th century Mexican paintings depicting them triggered the creativity of the marketing agency we had contracted at that time who conceived a hand-painted background where cups and hands come together to celebrate not only harvesting, but also the beginning of a change where the work of women and men in the developing countries is respected.  A scratched logo, on the upper part, symbolizes the product uniqueness and becomes almost a rural trademark.
In 1999 we won an award for the Nativo packaging and its content: the logo aimed at bringing together the fair-trade and organic certifications, the 100% Arabica and our company name as a guarantee that the process meets the highest standards. The agency under creative director Fabio Fedrigo achieved the podium of the Art Directors Club Italiano at the Grand Prix Design – Brand Identity.  We are still thrilled when recalling this experience.  It was the beginning of a metamorphosis; from that moment onwards the packaging of our products has become the occasion to narrate about experience, traditions, signs and places.  It is not only about a name, it is about telling the story of the tastes we look for and select, of the tastes we love and refine.  Each blend is different and deserves to be told in an extraordinary way.
The NATIVO coffee is presently composed of coffees coming from selected organic farming in Centre and South America. We often choose coffees from Peru or Honduras, with the precise objective to preserve the same tasting characteristics: a sweet, intense, well-balanced taste with hints of cocoa and fruit. A full body and a distinct cocoa aftertaste.
Nativo Deca in tins is decaffeinated using carbon dioxide (CO2) in its gas form to ensure the selective removal of caffeine.  This is a refined process that leaves the coffee aroma unaltered. The special production process enhances the original product characteristics in compliance with the strict standards required to differentiate organic products.
Fairtrade and CCPB Certificates.